Custom made freezers and cold room storage
We design and install refrigeration solutions to suit your business needs. We can supply and install custom cold rooms and freezers for all types of commercial businesses.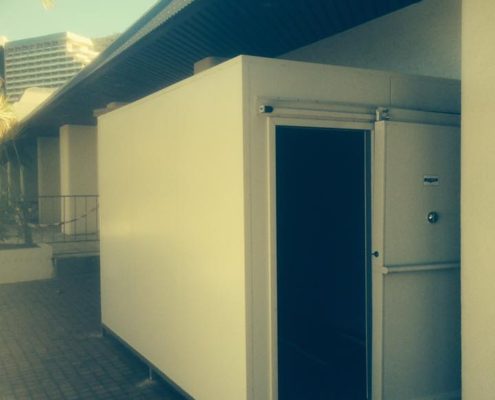 Constructed from the most efficient polyurethane panels our cool rooms & freezers offer heat insulation and save between 30% – 45% in energy. They are light, high in strength, corrosion resistant, mould free and moth proof.
Our cool rooms and freezer rooms are applicable for the following commercial businesses.
Hospitals and laboratories
Supermarkets
Factories and warehouses
Accommodation and resorts
Abattoirs and food processing plants
Restaurants, cafes and pubs
Service design and installation include
Design and construction
Repairs and maintenance
Sales and finance
Free Cool Room Consultation
Do you own a commercial business that is in need of a cold room or freezer? Our air conditioning consultants will give you a free consultation to determine your specific needs. We can help in the design process of your cold room to maximise your space and efficiency. We have built and installed multiple cold rooms and freezers in supermarkets, high end accommodation facilities and other related businesses. We will walk you through the entire process from design to installation and maintenance. All our work will be guaranteed and council approved.