Daikin Cora 9.5kW Reverse Cycle Air Conditioner
Delivered in understated confidence, the Daikin Cora series features whisper-quiet operation, industry-leading energy efficiency and superior comfort levels without compromising on style.
Able to blend in harmoniously with modern bedrooms and living areas with its smooth contours and flat panel design in a high quality matte white finish, nothing compares to creating that ideal family sanctuary that makes you feel right at home all year round.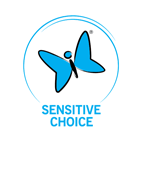 A Sensitive Smart Choice.
Approved by the National Asthma Council Australia, Daikin air purifiers and split systems are authorised to display the Sensitive Choice butterfly symbol.

2-Area Intelligent Eye – An infrared human presence sensor helps prevent cold draughts and enables energy saving operations when the room is unoccupied for 20 minutes.

R32 Refrigerant – New R32 Alira is a perfect blend of progressive design aesthetic and superior energy performance, all presented in a compact form factor.

Coanda Airflow – Discharge louvres designed to stream air along the ceiling for longer throws and delivering rapid cooling and even temperature distribution.


Air Purification – Titanium apatite deodorising air purification filter traps microscopic particles, decomposes odours and even deactivates bacteria.

Whisper Quiet – When in quiet mode, the indoor unit noise level drops to a whisper quiet 19dBA (20, 25 & 35 Class Model). You won't even notice that it's on.

Precision Control – Room temperature can be set in increments of 0.5°C to ensure optimal comfort conditions all year round.
---
Daikin Cora Backlit Wireless Remote Control
Operation Timers –
Schedule your unit to operate automatically throughout the day or week to suit your lifestyle.
Boost Mode –
Gives a boost in cooling or heating for 20 minutes beyond normal capacity.
Comfort Mode –
Airflow is optimised to stream upwards during cooling and downwards during heating.
Quiet Mode – Operation sound levels are reduced by 2-3dBA for quieter heating and cooling.
Dry Function Mode – Automatic intelligent airflow and temperature control to reduce room humidity.
Econo Mode – Power consumption of the system is limited to prevent tripping your circuit breaker.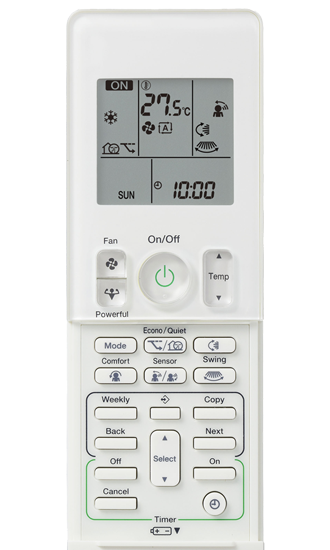 ---
Daikin Cora Mobile Control – Optional Extra

Direct Connection – For locations without a Wi-Fi network, the app can wirelessly connect directly to the a wireless LAN adaptor equipped air conditioner, when in range.


WiFi Connection – A LAN equipped air conditioner can easily be joined to a local Wi-Fi network. Once connected, the system can be controlled from any networked Android or iOS device.


Internet Connection – All you need is a permanent internet connection for your Wi-Fi network, and an internet connection for your phone or tablet and you can monitor and control your system from virtually anywhere.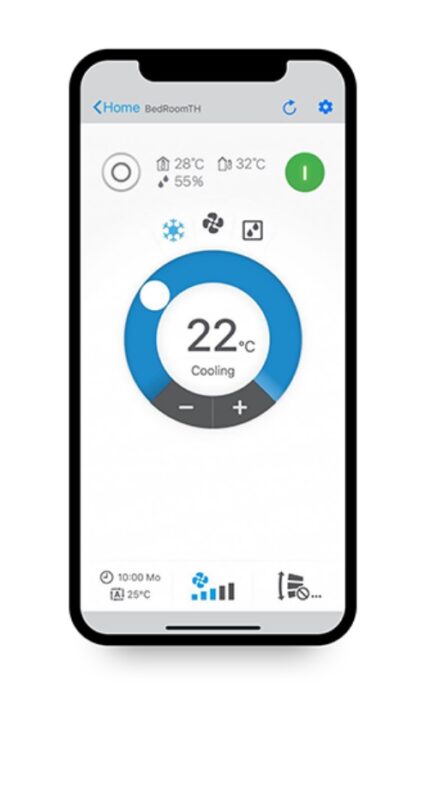 5 Year Warranty
Daikin's 5-year parts and labour warranty applies to split, multi split and ducted air conditioners purchased and installed in homes across Australia.
Download Daikin Cora User Manual